Transform the way students learn science!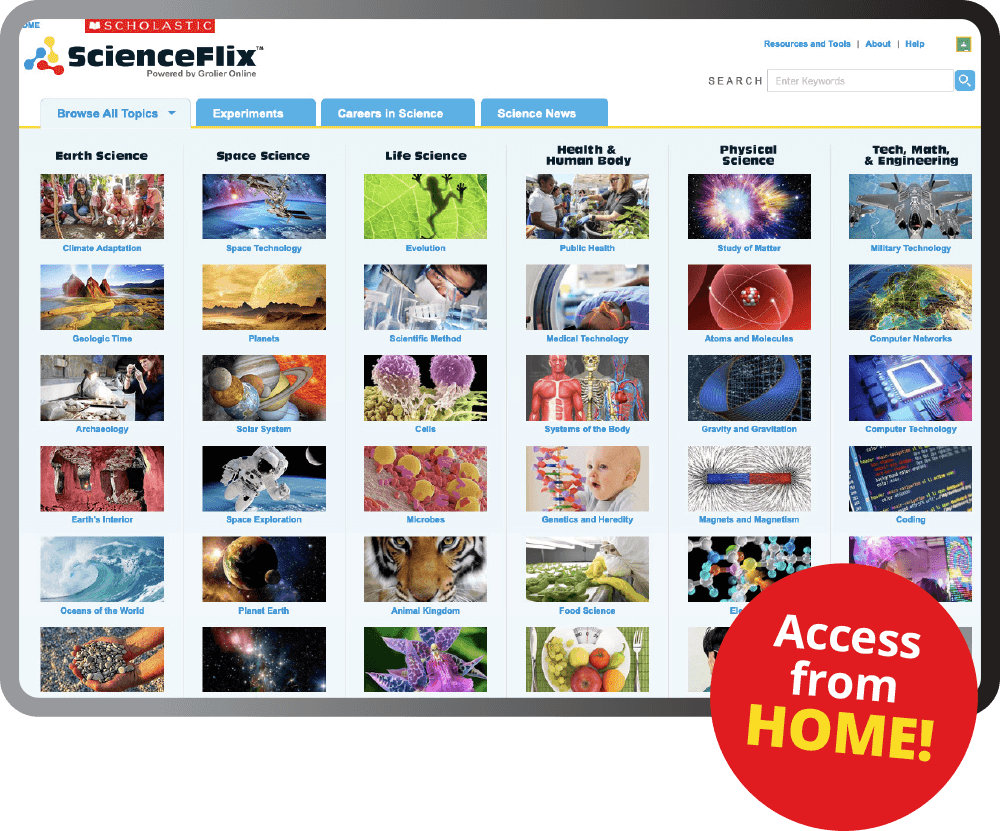 ScienceFlix is transforming the way students access science
topics, acquire scientific knowledge, and build a lasting
interest in science, technology, and engineering. Content is
integrated with interactive features and intuitive navigation
in this highly engaging, mobile-ready science resource.
Over 70 exciting topics in six strands!
ScienceFlix offers more than 8,000 science-related assets in a variety of media across six areas of study:
Earth Science
Space Science
Life Science
Health & Human Body
Physical Science
Technology & Engineering
ScienceFlix offers an intuitive, easy-to-navigate user experience. With thousands of science-related assets to explore in a variety of media, and text types including videos, reference articles, interactive media, and more, students can easily acquire a wealth of background and content knowledge at home and arrive at school prepared to engage in a thoughtful discussion or activity facilitated by their teacher.
• Videos to build crucial background knowledge and introduce the topic
• Anchor articles to build content-area knowledge
• Teacher resources with lesson plans, rubrics, and more
• Careers section to inspire budding scientists
• Dive-deeper articles to encourage a deeper level of understanding
• Read Aloud feature to support struggling readers and ELL students
• News stories with study guides
How does ScienceFlix support students at home and in class?
AT HOME, students are supported by:

Engaging videos that introduce the topic and key vocabulary and build background knowledge
Articles written at three reading levels to build content knowledge
Automatic word look-up to build in-context vocabulary
A read-aloud feature to support struggling readers and ELL students
AT SCHOOL, teachers can support learning with:

Projects and experiments
Quizzes and discussion starters
Web links for related content discussions
Interactive timelines and other media