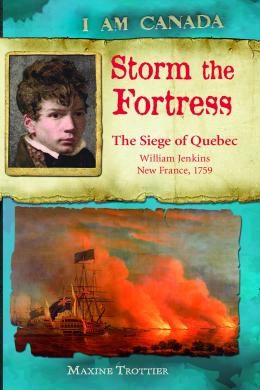 Awards
Commended, Best Books for Kids and Teens, Canadian Children's Book Centre, 2013
I Am Canada: Storm the Fortress: The Siege of Quebec, William Jenkins, New France, 1759
Scholastic Canada Ltd | ISBN 9781443100076 Hardcover
208 Pages | 4.67" x 6.8" | Ages 9 to 12
Scholastic Canada Ltd | ISBN 9781443124539 Ebook
208 Pages | Ages 9 to 12
A young sailor is caught up in the naval siege of Quebec leading up to the battle on the Plains of Abraham.
Fourteen-year-old William Jenkins is working at a printing house when he comes to the attention of navigator and naval officer James Cook. William signs up to serve with Cook on the warship HMS Pembroke, part of Britain's fleet setting out to take the French stronghold of Quebec.
William soon learns that the world of a British sailor is a harsh one, especially when the ship lays siege to the fortress and is attacked by French fire ships - burning wrecks sent downstream to set the British warships on fire. On one raid, William is captured by the French allies, the Abenaki, and taken into Quebec itself, which is under constant bombardment from British cannons.
With the siege strangling Quebec's lifelines, William finds a way outside the fortress walls just in time to join the British soldiers landing their boats and preparing to face the French on the Plains of Abraham.
A dramatic story of the Seven Years' War, culminating in the siege and battle that claimed Canada for Britain.
Raves & reviews:
Praise for the I Am Canada series:
"Make[s] history come alive through an expert mix of fact and fiction." — Quill & Quire
"The chief characters are eminently likeable and quietly heroic, and their tales utterly engrossing." — The Globe and Mail
"The writing is immaculate." — The National Post
Awards and nominations for books in this series:
Canadian Children's Book Centre Best Books for Kids and Teens
Hackmatack Children's Choice Book Award
IODE Violet Downey Book Award
OLA Best Bets
Resource Links, Year's Best
Rocky Mountain (Alberta Children's Choice) Book Award
Ruth and Sylvia Schwartz Children's Book Award
Extras: