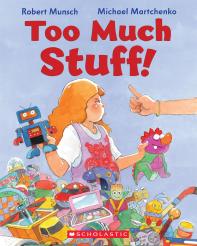 Too Much Stuff!
Ages 3 - 7
32 Pages
Scholastic Canada Ltd.
ISBN 9781443102452 Paperback
ISBN 9781443102445 Hardcover
ISBN 9781443102483 Book and CD package
Also available in French: Beaucoup trop de bagages!
Temina is excited about her first airplane trip, and she wants to take ALL her toys. Her mom says she can only take ONE. But Temina knows that she really needs ALL that stuff, and she's going to prove it!