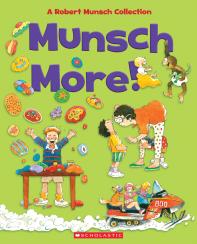 Munsch More!
Ages 3 - 7
184 Pages
Scholastic Canada Ltd.
ISBN 9780439961356 Hardcover
Also available in French: Le monde de Munsch
Get more! Munsch More! This oversize volume contains six hilarious stories by Robert Munsch, including the favourites Alligator Baby, Andrew's Loose Tooth, Get Out of Bed!, Mmm, Cookies! and Ribbon Rescue, plus an all-new, never-before-published Munsch tale, Deep Snow. Also includes a look behind each of the stories and biographies of the illustrators and Robert Munsch himself.