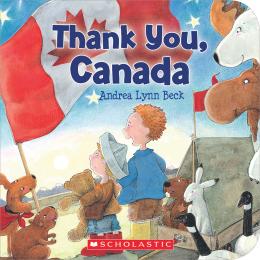 Read an excerpt
Available in French
Awards
Commended, Best Books for Kids and Teens, Canadian Children's Book Centre, 2018
Thank You, Canada
Scholastic Canada Ltd | ISBN 9781443175173 Board book
30 Pages | 6.76" x 6.75" | Ages 0 to 3
Scholastic Canada Ltd | ISBN 9781443157230 Hardcover
32 Pages | 9.3" x 9.28" | Ages 2 to 6
Thank you, Canada, you make us proud.
I see you out there! Why don't we play?
Tomorrow, perhaps? I'll come your way.
We'll fly to the stars, or snorkel the sea.
We'll roam the Sahara, or climb a big tree.
And then we'lll come back to the best place to be.
Thank you, Canada.

Thank you, Canada, for wide open spaces to explore and imagine. Thank you for amazing nature, silly place names, hockey, schools, stories and so much more! On each page, rhyming text and fun-filled art joyfully capture the many reasons to say: "Thank you, Canada. You make us proud."
Andrea Lynn Beck's bestselling and award-winning picture books Goodnight, Canada and Good Morning, Canada have struck a chord with Canadians from coast to coast to coast. Thank You, Canada continues to celebrate our country's myriad strengths. Joyful, detailed spreads bring out the varied flavours of Canada, in its culture, people, nature and contributions to the world.