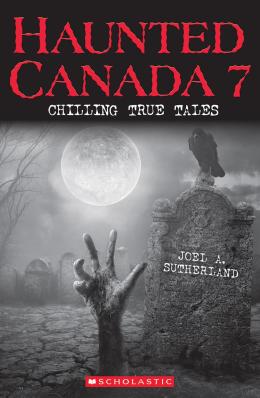 Read an excerpt
Awards
Commended, Resource Links, Best of the Year, 2017
Haunted Canada 7: Chilling True Tales
Scholastic Canada Ltd | ISBN 9781443187657 Paperback
128 Pages | 5.857" x 8.964" | Ages 9 to 12
Scholastic Canada Ltd | ISBN 9781443187664 Ebook
128 Pages | Ages 9 to 12
The revised seventh book in the bestselling series of spooky true Canadian stories — now with a fresh look, brand new story and bonus content!
In this terrifying collection of haunted stories, author Joel A. Sutherland has put together the creepiest, most bone-chilling tales from coast to coast, including:
A river wraith that kills anyone who sets eyes upon it in Stony Rapids, Saskatchewan
The ghost of a boy who plays pranks and terrifies theatre staff in the basement of the Centaur Theatre in Montreal, Quebec
Supernatural, inexplicable encounters in deserted hallways and empty holding cells at Old City Hall in Toronto, Ontario
and a bonus author Q&A!
Moody black-and-white illustrations and archival photos throughout are sure to shock even the most cynical readers into believers!
Extras: