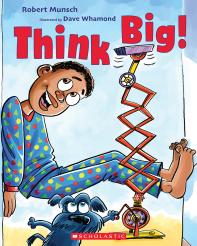 Think Big!
Ages 3 - 8
32 Pages
Scholastic Canada Ltd.
ISBN 9781443182980 Paperback
ISBN 9781443182973 Hardcover
Also available in French: C'est petit ici!
It's not fair — Jamaal is the biggest kid in his family, but he has the smallest room. And if Mom and Dad won't help, he's going to have to take care of the problem himself!
View an excerpt About the story