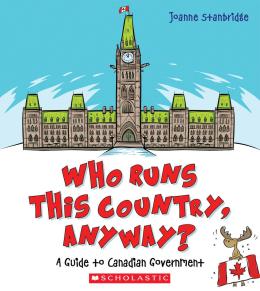 Read an excerpt
Awards
Commended, Best Books for Kids and Teens, Canadian Children's Book Centre, 2016
Commended, Canadian Children's Book Centre, Our Choice, 2006
Who Runs This Country, Anyway?: A Guide to Canadian Government
Scholastic Canada Ltd | ISBN 9781443142991 Paperback
80 Pages | 8.51" x 9.52" | Ages 8 to 12
This fun- and fact-filled guide to Canada's government gets an update just in time for the Federal Election!
In this easy-to-read, information-packed book, a comical duo (a keener student and her offbeat sidekick) guide readers through Canada's electoral and governing process.
Nine chapters take the reader through topics like Confederation, federalism, monarchy, elections and voting, minority and majority governments, a day in the House of Commons — plus updated items on Senate Reform and new legislation like the Fair Election act.
Jam-packed with interesting photos and zany sections (like the ones that tell kids how to stump an adult!), Who Runs This Country, Anyway? takes a unique approach to this curriculum subject. It's perfect for teachers and students, future politicians, and anyone studying for the citizenship test!
Raves & reviews:
Praise for Who Runs This Country, Anyway?:
Commended, Canadian Children's Book Centre — Our Choice, 2006
"Accessible and lively . . . accurate, thorough, yet concise . . . the best book I've seen on this topic" —Quill & Quire
"Excellent, enduring, everyone should see it!" —Resource Links
Extras: