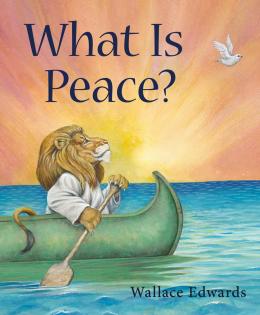 Read an excerpt
Available in French
Awards
Commended, TD Summer Reading Club, 2017
Commended, Best Books for Kids and Teens, Canadian Children's Book Centre, 2017
What is Peace?
Scholastic Canada Ltd | ISBN 9781443148436 Hardcover
32 Pages | 9.36" x 11.27" | Ages 4 to 10
A stunning, thought-provoking look at finding peace in children's lives.
Peace is a familiar word, its meaning both simple and complex.
Here, Wallace Edwards explores peace, and invites young readers to think about what that means to them. Through a series of linked questions and combined with Edwards' singular art, the concept of peace is picked up, shaken, turned all around, and carefully examined from every angle.
Children experience stress, even violence, at home and at school and bear witness to news stories and family histories. There are many books on war for children; far fewer that examine peace. What Is Peace? engages readers to think about peace in their day-to-day lives, and around the world.
Raves & reviews:
Praise for Wallace Edwards:
• Winner, Governor General's Literary Award for children's book illustration (Alphabeasts)
*"Edwards ... lets his beautiful, mysterious pictures operate on the imagination as they will." (Alphabeasts) —Quill & Quire, starred review
*"Many young readers are (rightly) allergic to anything that can be described as "exquisite", but there is no better word for The Cat's Pajamas." (The Cat's Pajamas) —Quill & Quire, starred review
"In a finished, painterly style, Edwards places his often hilariously imagined subjects in elaborate settings." (Mixed Beasts)—Kirkus Reviews