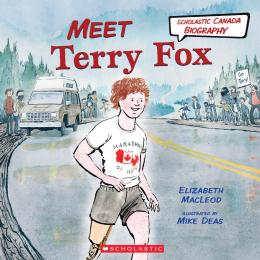 Read an excerpt
Available in French
Awards
Commended, Best Books for Kids and Teens, Canadian Children's Book Centre, 2021
Commended, TD Summer Reading Club, Top Recommended Read, 2021
Meet Terry Fox (Scholastic Canada Biography)
Scholastic Canada Ltd | ISBN 9781443182065 Hardcover
32 Pages | Ages 6 to 10
Meet Terry Fox, the young athlete with a vision that inspired people around the world.
Read Terry Fox's remarkable story, just in time to mark the 40th anniversary of the Marathon of Hope!
Growing up, Terry Fox loved sports. Whether it was basketball, volleyball or track and field, he gave it his all. It was a terrible day when, at only 18, he was diagnosed with bone cancer. His right leg was amputated above the knee.
But Terry never gave up. He decided to run across Canada to raise awareness and money for cancer research. Terry trained hard and on April 12, 1980, he began the Marathon of Hope.
Then, 5373 kilometres into his run, Terry was forced to stop — but his incredible legacy was just beginning.
The Terry Fox Virtual Run is on September 20! Learn more at www.terryfox.org/run/
The award-winning Scholastic Canada Biography series highlights the lives of remarkable Canadians, whose achievements and legacies have inspired and changed the lives of those that followed them.
Extras: