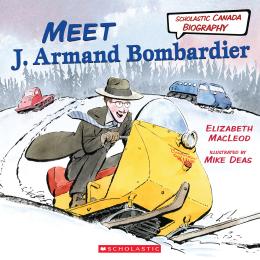 Read an excerpt
Available in French
Awards
Commended, Best Books for Kids and Teens, Canadian Children's Book Centre, 2023
Meet J. Armand Bombardier (Scholastic Canada Biography)
Scholastic Canada Ltd | ISBN 9781443191333 Hardcover
32 Pages | 9.282" x 9.292" | Ages 6 to 10
Meet Joseph-Armand Bombardier — Canadian inventor, innovator and entrepreneur!
Born in 1907, Joseph-Armand grew up in Valcourt, a small village in Quebec. Like many places in rural and Northern Canada, it was often cut off from the world after winter snows made the roads impassable. When Armand was a kid, he was already inventing his own toys, including his first attempt at a vehicle that could drive through snow. As an adult, the passion to invent a snow machine became a serious ambition after his 2-year-old son died from appendicitis. It was winter and they could not get him to the hospital.
Armand persisted even after many failures — until he did it! His B7 snow machine was used to deliver milk and mail . . . and it saved lives. But Armand didn't stop there! He continued to invent and innovate his whole life, making contributions to the war effort and developing machines like the Muskeg tractor and the famous Ski-doo. His inventions revolutionized the way people live and work.
The award-winning Scholastic Canada Biography series highlights the lives of remarkable Canadians whose achievements have inspired and changed the lives of those who followed.
Raves & reviews:
Praise for Meet Chris Hadfield:
" . . . Meet Chris Hadfield delves a little deeper and gives children the anecdotes that will be most relevant to them. It's about dreaming and working hard and having fun while engaging with others about your passion." — Canlit for Little Canadians
Praise for Meet Elsie MacGill:
"Elizabeth MacLeod has written an outstanding book. The language is flowing and exciting, and there are speech and thought bubbles that add humour and break up the text making the information easier to absorb . . . The illustrations by Mike Deas are as strong and beautiful as the story." 5/5 stars — Canadian Review of Materials
Extras: