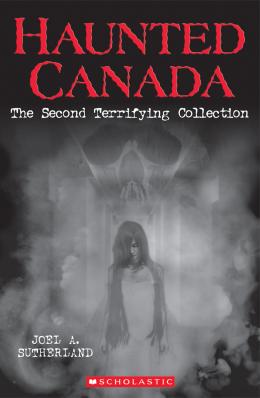 Read an excerpt
Awards
Commended, Best Books for Kids and Teens, Canadian Children's Book Centre, 2020
Haunted Canada: The Second Terrifying Collection
Scholastic Canada Ltd | ISBN 9781443175197 Paperback
336 Pages | 5.897" x 8.982" | Ages 9 to 12
A creepy collection that will keep you up at night!
Abandoned hospitals, haunted hotels, supernatural sea creatures . . .
Wherever you are in Canada, chances are spirits are closer than you think. A ghostly dog leaps out from the darkness of an abandoned hospital in Coquitlam, British Columbia. A phantom ship emerges from the fog off the coast of Newfoundland. Unseen hands grasp at children in a Winnipeg, Manitoba schoolyard. With over 100 true ghost stories from across the country, prepare to be haunted!
This collection includes books 4 to 6 of the series.
Raves & reviews:
Praise for Joel Sutherland:
"Joel A. Sutherland is quickly becoming Canada's answer to R.L. Stine." — Quill & Quire
Extras: