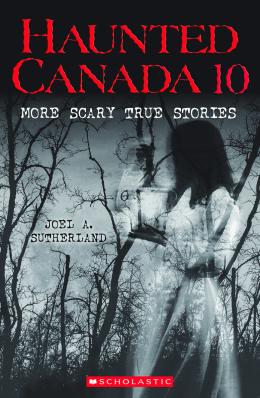 Read an excerpt
Awards
Commended, TD Summer Reading Club, Top Recommended Read, 2022
Commended, Best Books for Kids and Teens, Canadian Children's Book Centre, 2021
Haunted Canada 10 (Haunted Canada #10): More Scary True Stories
Scholastic Canada Ltd | ISBN 9781443175784 Paperback
128 Pages | 5.855" x 8.921" | Ages 9 to 12
Scholastic Canada Ltd | ISBN 9781443175791 Ebook
128 Pages | Ages 9 to 12
The tenth book in the bestselling series of hauntingly true Canadian stories — back, and scarier than ever!
Although Patrick and the others were alone, laughter cut through the silence — laughter that soon turned to crying. The group paused and held their breath, trying not to make a sound, waiting for what they might hear next. "Help me," a young voice said, full of sadness and fear. It sounded too close for comfort.
These terrifying true tales from across Canada will make your blood run cold. A young voice calls out for help in an abandoned asylum in Sainte-Clotilde-de-Horton, Quebec. A family in Eastern Passage, Nova Scotia, is tormented by a poltergeist on Christmas Eve. In Victoria, British Columbia, the spirit of a killer terrifies visitors to Fan Tan Alley. Prepare yourself to be haunted!
Moody black-and-white illustrations and photographs enhance the hauntingly eerie read.
"JOEL A. SUTHERLAND IS QUICKLY BECOMING CANADA'S ANSWER TO R.L. STINE." — QUILL & QUIRE
Raves & reviews:
Praise for Joel A. Sutherland:
"One of the most promising new voices in horror." — Jeff Strand, author of A Bad Day for Voodoo and Pressure
"A talent to watch." — Dark Scribe Magazine
"Keep an eye on Sutherland. This guy has got a great future ahead of him." — Joe McKinney, author of Dead City, Quarantined and Peacekeepers
Praise for Haunted Canada:
"Canada's answer to R.L. Stine." — Quill & Quire
Praise for Haunted: The House Next Door:
"What could be scarier than moving next-door to a haunted house? How about a ghost horse? How about a ghastly murder or two? This book is CHILLING. Loved it!" — R.L. Stine, author of Goosebumps
Praise for Haunted Canada 5:
"This book delivers pretty well everything a ghost-story-loving child could ask for, with an extra layer of dread provided by Norman Lanting's spookily suggestive illustrations." — National Reading Campaign
Praise for Haunted Canada 6:
"A great read for all ages and abilities and perfect for the Halloween season, Haunted Canada 6 is sure to fly off the shelves and enter into readers' dreams (or nightmares!)." — CM: Canadian Review of Materials
Praise for Haunted Canada 8:
"Haunted Canada 8 is a fun collection of stories that make great read-alouds, provides great hooks for reluctant readers, and, of course, is simply a great read for kids that love getting lost in the dark and being terrified."— CM: Canadian Review of Materials
Extras: