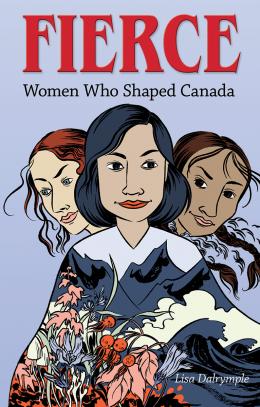 Read an excerpt
Awards
Commended, Best Books for Kids and Teens, Canadian Children's Book Centre, 2019
Fierce: Women Who Shaped Canada
Scholastic Canada Ltd | ISBN 9781443175104 Hardcover
128 Pages | 5.52" x 8.68" | Ages 9 to 12
Discover the untold stories of the fierce women who shaped Canada's legacy!
Celebrate the accomplishments and heroics of the overlooked heroes of Canadian history, with inspiring tales of tenwomen who were integral to our national legacy, and whose stories have not been told . . . until now!
Often relegated to the sidelines of history, the women highlighted in this book were performed feats that most people would never even dream of. You may not know their names now, but after reading their stories, you won't soon forget them.
It's time to hear the stories of Marguerite de la Roque, Ttha'naltther, Catherine Schubert, Charlotte Small, Alice Freeman (AKA Faith Fenton), Lucile Hunter, Ada Annie Jordan (AKA Cougar Annie), Victoria Cheung, Mona Parsons, and Joan Bamford Fletcher!
Author Lisa Dalrymple's riveting writing, combined with rigorous research, makes Fierce: Women Who Shaped Canada as eye-opening as it is thrilling to read!
Extras:
Discussion and Activity Guide PDF