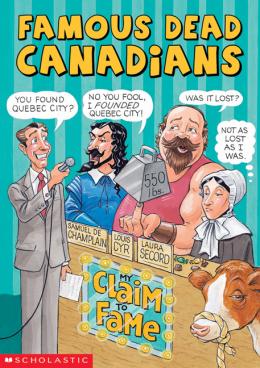 Awards
Short-listed, Red Cedar Award (BC Young Readers' Choice), 2006
Short-listed, OLA Silver Birch Award, Non-Fiction, 2005
Famous Dead Canadians
Scholastic Canada Ltd | ISBN 9780779114023 Paperback
208 Pages | 5.24" x 7.61" | Ages 8 to 12

History comes alive as the offbeat style of Joanne Stanbridge offers up the amazing life stories of over a dozen famous Canadians explorers, inventors, scientists, adventurers and more. Illustrations by Bill Dickson only add to the fun. A unique approach to Canadian history!
Raves & reviews:
Praise for Famous Dead Canadians:
"Famous Dead Canadians might flourish as an example of a type of humorous writing, and the cartoons will bring a smile to the faces of the readers. Recommended." -CM Magazine