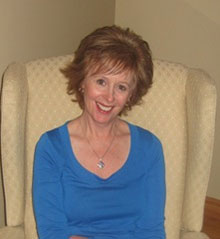 Nancy Wilcox Richards
When Nancy Wilcox Richards was in grade one she told her classmate, Rosemary, that she was celebrating her birthday that very day, and Rosemary was invited to her party. Unfortunately, Rosemary showed up at Nancy's house that evening with a birthday present. You might ask, why was this unfortunate? Doesn't everybody love to get presents? Well, there was just one teeny problem – it wasn't Nancy's birthday! This "birthday fib" eventually found its way into the story of How to Fix a Lie.
"And that's what authors do," says Nancy. "Writing is like creating a recipe. We take bits and pieces of real life – things that are funny, interesting or heart-warming – and we add in some imagination; mix it up, and the result is a story."
Many of Nancy's books draw on her experiences as an elementary teacher. Whether it's facing the challenges of bullying, such as in How to Tame a Bully, or it's reaching out to accept others, such as in How to Be a Friend, her books are sure to resonate with elementary kids.
Nancy lives on a picture perfect lake in Nova Scotia. She loves spending time with her family; enjoys whiling away the time in her hammock on a warm summer's day; and is convinced that chocolate can solve a lot of problems.