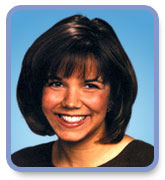 1
Lisa McCourt
Current Home:
Boca Raton, Florida,
United States Of America

When I was a baby, I didn't write much. Maybe on the walls with crayons, or in the sandbox with a stick, but no one would have guessed then that I'd do it for a living one day. Then, when I was in third grade, I heard about a contest for kids. You had to create a bumper sticker with a message about saving the planet. I was thrilled at the idea of writing something that people would stick on their cars! I drew a rabbit, a bird, and a squirrel, and wrote, "We're not the only ones who live here. Don't ruin their world." Believe it or not, the other entries must have been worse. It was the first time my writing ever won an award — and the last time my drawing ever won anything! The first stories I ever wrote were for my brother. I made up a bunch of silly characters that lived inside the human body.

In seventh grade, I wrote a lot of stories about boys and girls falling in love. I was totally boy-crazy by then! Even when I was writing romantic stories, I loved reading children's books to kids and being with them. Every job I've ever had has involved kids in some way.

My first job out of college was for a company you might know — Troll Communications! If you haven't heard of Troll, you've probably heard of Scholastic, a book publishing company with classroom book clubs that let you order books right from your teacher. Troll was just like that. The original owners of Troll taught me all about what makes an awesome kids' book. I was so young when I started that they were kind of like on-the-job parents to me, and I'm forever grateful to them!

I worked for children's book publishers for ten years and then I started my own book packaging company, Boingo Books. Being a book packager was great, but I like being a regular author more. I still package a few special projects — since I love being involved with ART — but mostly now I just write."

Lisa McCourt's books include I Love You, Stinky Face, and Good Night, Princess Pruney Toes, and the Chicken Soup for Little Souls series. She lives with her family in Boca Raton, Florida.