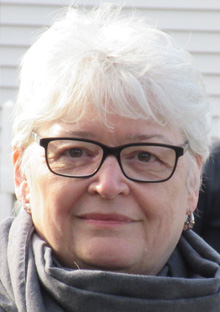 Linda Granfield
"I've always loved history, and writing non-fiction books lets me explore the past and become both a time traveller and detective. I can move through hundreds of years, from 'then' until 'today,' finding interesting places and people and the stories that I think will interest readers of all ages."
Linda Granfield is the author of nearly thirty non-fiction titles for young readers and adults. She has received more than forty honours and awards for books that cover themes such as war, immigration, slavery and elections. As Linda likes to say, "every day is Remembrance Day." Her books about the First and Second World Wars, as well as the Korean War and Canada's war brides, have helped connect North American youth with their own families' veterans as well as with national veterans in both countries.
Now a dual citizen, Linda grew up near Boston, Massachusetts. She immigrated to Canada over thirty-five years ago to attend graduate school. She has spoken to audiences ranging from a few readers in a cozy village library room, to many sitting in the shadow of a Spitfire at the Smithsonian Institution in Washington D.C.
Linda is a recipient of the Vicky Metcalf Award for Body of Work, and presents history to readers of all ages, and to educators across North America. She's usually working on a book or three. Linda lives in Toronto, Canada. She detests oatmeal porridge, but never refuses a piece of home-made lemon meringue pie.
Her Scholastic Canada titles include The Unknown Soldier, an OLA Best Bet, Remembering John McCrae: Soldier-Doctor-Poet, winner of the 2010 Municipal Chapter of Toronto IODE Jean Throop Book Award, The Road to Afghanistan, shortlisted for several provincial children's choice awards and her latest The Vimy Oaks: A Journey to Peace.