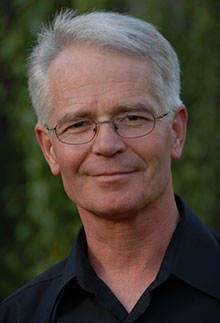 Larry Verstraete
When does a person know that he or she might want to be a writer? For Larry Verstraete, who grew up in Winnipeg, Manitoba, there were early signs. When he was ten years old, Larry and a friend used a toy printing press to publish a newspaper featuring off-beat stories about their neighbours. The project ultimately stalled when summer pursuits like swimming and biking became priorities, but Larry never quite forgot the thrill of hunting for information and creating a printed page.

Formerly a science teacher, Larry's writing career began when he spotted a magazine ad for a correspondence writing course while waiting for a haircut in a barbershop. On a whim, he clipped out the ad and enrolled in the course. One of his first assignments was to write a non-fiction article for children. He chose lightning as his subject, a topic that fascinated both the scientist and the kid in him. During his research for the article, Larry discovered a story about Benjamin Franklin and a nearly fatal electrical accident the inventor had had, years before his well documented flying-a-kite-in-a-thunderstorm experience. The Franklin story was odd and interesting – a definite kid-pleaser and great opener for the article.

Inspired by the Franklin story, Larry began to look for other equally odd stories in science where accidents, mistakes and minor disasters played a part in discoveries or inventions. He wrote one short article after another, some as assignments for the course, others just for his own satisfaction. By the end of the course, he had a collection of more than 20 true-but-strange stories

That collection about fruitful mishaps, blunders and coincidences in science eventually became The Serendipity Effect, Larry's first book for Scholastic Canada. Later, the book was republished under the title, Accidental Discoveries: From Dynamite to Laughing Gas.

Since then Larry has published a number of award-winning non-fiction books for young people, several on the subject of science, all utilizing true-life stories at their core, such as his latest Case Files: 40 Murders and Mysteries Solved by Science. Other recent titles include At the Edge: Daring Acts in Desperate Times Winner of the 2010 OLA Silver Birch Award for Non-fiction, Lost Treasures: True Stories of Discovery (2007 McNally Robinson Book for Young People Award) and Life or Death: Surviving the Impossible.