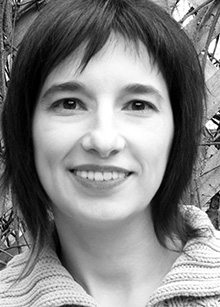 Elise Gravel
Elise Gravel is one of the most popular children's book creators in Quebec. She has written and illustrated over 20 titles, and her winning combination of art and humour has played a big part in her appeal.
It all started in kindergarten, where she showed signs of her budding artistic talent. She made friends easily because she was very good at drawing princesses with long, ringleted hair. By high school, she had moved on to drawing what she imagined to be ideal partners for each of her friends, an endeavour that was somewhat less successful.
But it wasn't until Elise was actually studying graphic design at CEGEP that she finally decided to become an illustrator.
Today, Elise uses her sharp wit and unique sense of humour to help awaken the critical thinking skills of her young readers. Through her passionate advocacy in support of equality, tolerance and freedom for all peoples, she has won the hearts of readers young and old, attracting more and more fans with each new book.
In 2012, Elise won the Governor General's Award for Illustration for her book La clé à molette. In 2015, her book Jessie Elliot a peur de son ombre won the Prix jeunesse des libraires du Québec for the 12–17 age category. Most recently, Elise was honoured with the Rights and Freedoms Award from the Quebec Commission des droits de la personne et des droits de la jeunesse. Elise was recognized for "the excellence of her work in raising awareness and popularizing complex and sometimes taboo subjects among children. Her illustrations make it possible to deconstruct prejudices even before they take hold in children's homes, and this is precisely what won the jury over."
Recognition of Elise's talent has started to spread worldwide. Her books are now translated into over a dozen languages! While she has had several books published with Éditions Scholastic, including Je veux un monstre!, Comment ça va? and the highly acclaimed Le pire livre du monde, Not Me is the first one in English with Scholastic Canada.
Elise lives in Montreal with her husband, two daughters, their cats and a few spiders. She is working on many different projects in Quebec, Canada and the United States. Visit her website to learn more and to download exclusive free content: www.elisegravel.com.