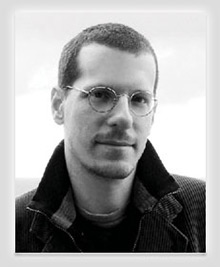 Brian Selznick
Caldecott Honor-winning illustrator and New York Times bestselling author Brian Selznick graduated from the Rhode Island School of Design with the intention of becoming a set designer for the theatre. However, after spending three years selling books and painting windows for a children's bookstore in Manhattan, he was inspired to create children's books of his own. His books have received many awards and distinctions, including a Caldecott Honor for The Dinosaurs of Waterhouse Hawkins and a Robert F. Sibert Honor for When Marian Sang.

Brian Selznick travels extensively to work on his books. He spent six months in Washington D.C. for Amelia and Eleanor Go for a Ride and he traveled to England for The Dinosaurs of Waterhouse Hawkins. More recently, Brian visited Walt Whitman's childhood home in West Hills, New York for Walt Whitman: Words for America.

His most recent work is the groundbreaking title, The Invention of Hugo Cabret. Combining elements of picture book, graphic novel, and film, he creates an entirely new reading experience. "Several years ago, I read a review of a book called Edison's Eve: A Magical History of the Quest for Mechanical Life by Gaby Wood," says Selznick. "The review mentioned the true story of a collection of elaborate mechanical windup figures (known as automata), which had once been owned and loved by a great French film director named George Méliès. These amazing machines were eventually donated by Méliès to a museum in Paris, but the collection was neglected in a damp attic and eventually had to be thrown away. I imagined a boy finding these broken, rusted machines, and thus Hugo and his story were born."

Brian Selznick lives in Brooklyn, New York and San Diego, California.