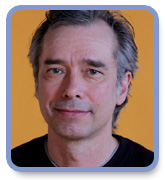 Brian Deines
Brian Deines is an acclaimed children's book illustrator who has been nominated for the Governor General's Award for Illustration, the Ruth and Sylvia Schwartz Award and the Lillian Shepherd Memorial Award, among others. He has illustrated such varied titles as The Hockey Tree, On a Snowy Night, The Road to Afghanistan and The Vimy Oaks: A Journey to Peace.
Brian is a native of Red Deer, Alberta. He graduated from the Alberta College of Art. Before becoming an artist, he spent time as a "roughneck and a rigger" on the oilfields of Alberta and as a groundskeeper at a golf and country club.
Brian works in oils for both illustration and fine art and has sometimes been called a painter of light. His three children help inspire his art. "I think about the inner light, spirit and energy that children project, a kind of lit-up quality — it is this quality that I seek in my imagery," Brian explains. "I have been able to explore this and the relationships between siblings and parents through several books that I've illustrated. This and the fact that no two stories are the same keep the books interesting," he says.
For The Road to Afghanistan and On a Snowy Night, the research involved was worlds apart. "In The Road to Afghanistan, a lot of the images that I came across were intense and quite brutal. This contrasted sharply with the beautiful landscape and people. I had mixed feelings as I worked my way through the text," says Brian. One of his previous books, based on the famous song by Joni Mitchell, The Circle Game, gave him insight in how to approach the material. "I decided to treat the imagery as song also, with certain images repeating like a chorus (in a song) through the book — as wars repeat, the consequences repeat and are the same in any era," he points out. On a Snowy Night features warm and fuzzy creatures within a quiet snowy nightscape. "It was so much fun to work with the different animal characters and their varying soft textures. The perfect counterpoint!"
Brian also enjoys hockey, bicycling, photography and music. He lives in Toronto with his family.