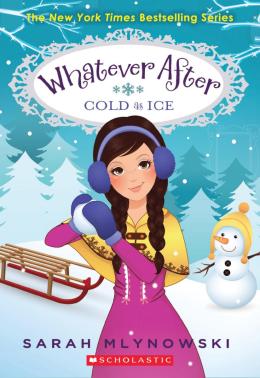 Read an excerpt
Whatever After #6: Cold as Ice
Scholastic Inc | ISBN 9780545627368 Paperback
176 Pages | 5.27" x 7.56" | Ages 8 to 12
Scholastic Inc | ISBN 9780545627344 Hardcover
176 Pages | 5.76" x 7.59" | Ages 8 to 12
Scholastic Inc | ISBN 9780545627375 Ebook
176 Pages | Ages 8 to 12
Even though my brother and I had decided to stay away from the magic mirror, our puppy had other plans - he bounded right in. What choice did we have but to go in after him?
When we land in a winter wonderland, we realize we must be in the story of the Snow Queen. And this fairy tale is nothing like the movie. This Snow Queen is super mean, and she turns our dog into an ice sculpture!
So we have to:
. defrost our furry friend
. ride a very chatty reindeer
. learn to ice-skate
. escape from a band of robbers
And if we're not careful . . . we could end up frozen ourselves!
Raves & reviews:
Praise for Whatever After #1: Fairest of All:
"An uproariously funny read. The swift pace of the tale and non-stop action . . . will enchant readers from the first page." -Kirkus Reviews
"This delightful kick-off to the series demonstrates Mlynowski's prowess at writing for middle-graders." -Publishers Weekly
"[Abby is] witty and charming, and Jonah's one-liners are snappy and clever. A light, fun adventure." -School Library Journal
Extras: