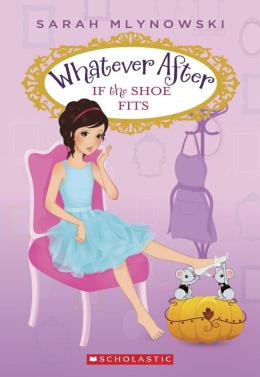 Read an excerpt
Whatever After #2: If the Shoe Fits
Scholastic Inc | ISBN 9780545415682 Paperback
176 Pages | 5.29" x 7.58" | Ages 8 to 12
Scholastic Inc | ISBN 9780545415675 Hardcover
176 Pages | 6" x 8" | Ages 8 to 12
Scholastic Inc | ISBN 9780545510356 Ebook
176 Pages | Ages 8 to 12
Sarah Mlynowski's charming new series puts a fresh, modern spin on classic fairy tales!
Once upon a time my brother and I found a magic mirror.
Tonight the mirror swept us into Cinderella's fairy tale. Now, we are NOT messing this story up. No way. Cinderella is going to marry her prince just like she's supposed to.
Uh-oh.
Cinderella broke her foot and there's massive swelling. The glass slipper won't fit, the prince won't know she's the one for him, and they won't live happily ever after. And it's all our fault!
To save the day we'll need to:
1. Learn how to use a dustpan
2. Stay out of jail
3. Find Cinderella a job
4. And make sure true love finds its way.
We just have to get it all done before the clock strikes twelve and the chance for a happy ending is gone... forever!
Raves & reviews:
Praise for Whatever After:
"An uproariously funny read. The swift pace of the tale and non-stop action... will enchant readers from the first page." —Kirkus Reviews
"This delightful kick-off to the series demonstrates Mlynowski's prowess at writing for middle-graders." —Publisher Weekly
Extras: