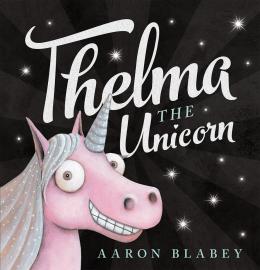 Read an excerpt
Awards
Commended, Resource Links, Best of the Year, 2016
Thelma the Unicorn
Scholastic Canada Ltd | ISBN 9781443148108 Hardcover
28 Pages | 9.71" x 10.12" | Ages 3 to 8
Be careful what you wish for . . .
Thelma is an ordinary pony who dreams of being a unicorn. And through a little bit of chance, and a strange dash of pink glitter-coloured fate, her dream comes true! Suddenly Thelma is transformed into a unicorn and becomes an international sensation.
But fame comes with its price. Fans are screaming and crying, and sometimes they chase her home! Is it possible that fame is not all it's cracked up to be?
In this adorable picture book from Aaron Blabey (creator of Pig the Pug), kids will laugh at Thelma's transformation from ordinary pony to glitzy unicorn and back to pony, while parents will appreciate the underlying lesson of staying true to oneself.
Raves & reviews:
Praise for Thelma the Unicorn:
"The joy of a new Aaron Blabey picture book that's begging to be read aloud - noisily!" —Readings
"Lovers of Pig the Pug will adore Thelma the Unicorn. Funny, heartfelt...completely perfect...already one of our favourites this year." —Review Zoo
Extras: