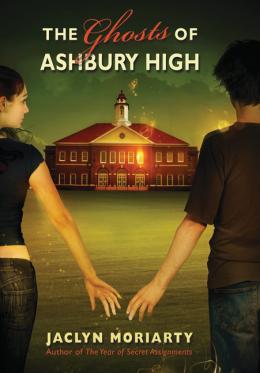 The Ghosts of Ashbury High
Scholastic Inc | ISBN 9780545069724 Hardcover
496 Pages | 5.75" x 8.5" | Ages 12 & Up

This is the story of Amelia and Riley, bad kids from bad Brookfield High who have transferred to Ashbury High for their final year. They've been in love since they were fourteen, they go out dancing every nigh and sleep through school all day. And Ashbury can't get enough of them. Everyone wants to be cooler, tougher, funnier, hoping to be invited into their self-contained world. But striane things are happening at Ashbury this year. Emily Thompson is certain that a ghost is haunting the Art Rooms. Lydia Jackson-Oberman's parents have left for Tuscany and there are non-stop parties at her house. Toby Mazzerati has taken an unusually strong interest in local history. And the new kids are hiding a secret that no one could have expected, and that could ruin more than just senior year. Jaclyn Moriarty returns to Ashbury High for a story about ghosts, secrets, madness, passion, locked doors, femmes fatales, and that terrifying moment in the final year of high school when you realize that the future's come to get you.