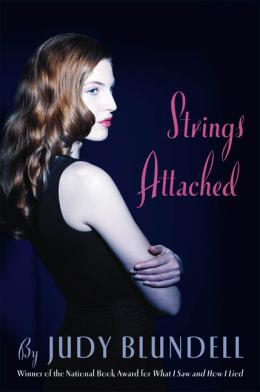 Strings Attached
Scholastic Inc | ISBN 9780545221269 Hardcover
320 Pages | 5.72" x 8.54" | Ages 13 & Up

Kit Corrigan has always dreamed of being a star. But in order to get there, she needs to break up with Billy, who's going to Korea, and leave her family in Providence, Rhode Island, to move to New York City. There, she finds small roles and a city that's tough to live in.

After she meets with Billy's father, Nate, things get a little easier. But Nate is a lawyer who defends mobsters, and soon Kit realizes that she has to do what he asks of her. Kit's life starts to feel beyond her control, especially once she uncovers a mystery that she needs to solve in order to protect the people she loves.

As she did in her National Book Award-winning What I Saw and How I Lied, Judy Blundell traps readers in a web of deceit, intrigue, and profound moral questions. The result? One stunner of a novel.
Raves & reviews:
Praise for What I Saw and How I Lied:
2008 National Book Award WinnerYoung People's Literature
An ALA Best Book for Young Adults
Romantic Times Book Review 2008 Reviewers Choice Nominee
"Blundell navigates this multidimensional plotline with unique, well-developed characters and insightful dialogue." School Library Journal, starred review
"A stylish, addictive brew." Publishers Weekly, starred review
"Judy Blundell takes readers into the mind and heart of a teenager hungry for truth and afraid of what she might find." The Washington Post
"An extraordinary story... Gripping." The Wall Street Journal
"Blundell doesn't miss a step. This is a smart, complex story with a terrific mystery and brilliant characters. Set just after World War II, it captures the era with real pathos and an ugly dose of reality." Romantic Times Magazine
"This beautifully written story is full of period detail, from a post-war New York City right out of Life magazine to a sleepy and sticky Florida courthouse, and its well-drawn and original characters spring to life on the page... this gripping novel would also make a top-notch read for adults." Bookpage.com