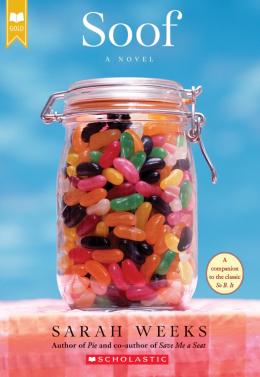 Soof (Scholastic Gold)
Scholastic Inc. | ISBN 9780545846660 Paperback
208 Pages | Ages 8 to 12

In this stand-alone follow-up to Sarah Weeks's beloved So B. It, a girl who the world might see as weird finds her footing and stands her ground.All her life, Aurora has heard stories about Heidi and all the good luck she brought Aurora's family. Aurora, though, doesn't feel very lucky. The kids at school think she's weird. And she's starting to think her mom thinks she's weird, too. Especially compared to Heidi.On the eve of a visit from Heidi, more bad luck hits Aurora's family. There's a fire in their attic, destroying a good part of their house. And, even worse, Aurora's beloved dog goes missing. Aurora and her family have always believed in soof -- Heidi's mom's word for love. But sometimes even when soof is right there in front of you, you still need to find it -- and that's exactly what Aurora is going to do.