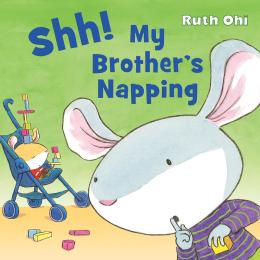 Read an excerpt
Available in French
Awards
Commended, OLA Best Bets, 2014
Commended, Best Books for Kids and Teens, Canadian Children's Book Centre, 2014
Shh! My Brother's Napping
Scholastic Canada Ltd | ISBN 9781443119931 Hardcover
32 Pages | 10.28" x 10.29" | Ages 3 to 7
There's nothing better than a sleeping child — and nothing harder than keeping an exuberant sibling quiet for that precious naptime.
"Shh! My brother's napping. He really needs his sleep," admonishes our adorable narrator at the outset of this story. But there are pots to bang, books to read, towers to build, pictures to paint, and all sorts of fun to be had. It's just so hard not to make any noise!
After a tower of books and blocks comes crashing down, little brother is wide awake and it's finally time to bring out the rest of the toys and have some fun! But who's that yawning now? This time, it's little brother's turn to tell us, "Shh, my brother's napping."
Ruth Ohi's expressive art captures a scene familiar to every young family in this charming book that will delight children and parents alike.
Raves & reviews:
Praise for Ruth Ohi:
"A playfully oblique exposition of the perils and pitfalls of sibling rivalry." — Kirkus Reviews

"An often-humorous story about a young boy who has his brother's best interest at heart, even if he doesn't always go about showing it in the right away." — The National Post
Extras: