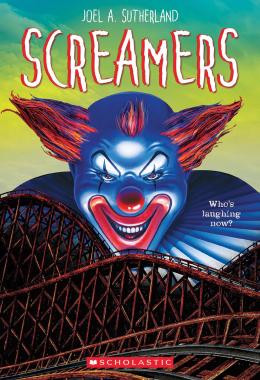 Read an excerpt
Awards
Commended, Best Books for Kids and Teens, Canadian Children's Book Centre, 2022
Screamers
Scholastic Canada Ltd | ISBN 9781443182782 Paperback
160 Pages | 5.279" x 7.629" | Ages 9 to 12
Scholastic Canada Ltd | ISBN 9781443182799 Ebook
160 Pages | Ages 9 to 12
New middle-grade horror from the award-winning author of the Haunted Canada series!
"Don't you love to laugh?" Beauregard asked. He took a few steps toward us. His clown shoes slapped the ground, and the floorboards creaked beneath them. "Or do you prefer to cry?"
Sai, Jason, and Aaliyah can't believe their luck when they win a chance to appear on the next episode of the hit TV show Screamers. Zoë Winter, the show's star, is just as excited to spend time with regular kids her own age. When the creepy set, an abandoned amusement park called Pennyland, turns out to be haunted by an evil clown, the four friends must work together to put on the performance of their lives . . . for their lives..
Raves & reviews:
"A great premise, a cool twist, and an exciting climax . . ." (Summer's End) — Allan Stratton, author of The Dogs
"Canada's answer to R.L. Stine." (The House Next Door and Kill Screen) — Quill & Quire
"This book is chilling. LOVED it!" (The House Next Door) — R. L. Stine