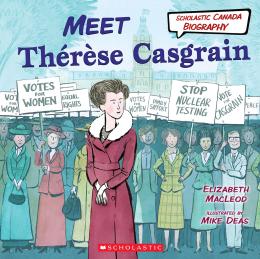 Read an excerpt
Available in French
Awards
Commended, OLA Best Bets: Honourable Mention, 2022
Commended, Best Books for Kids and Teens, Canadian Children's Book Centre, 2021
Meet Thérèse Casgrain (Scholastic Canada Biography)
Scholastic Canada Ltd | ISBN 9781443182560 Hardcover
32 Pages | 9" x 9" | Ages 6 to 10
Meet Thérèse Casgrain, the activist who worked for women's voting rights, equality and peace.
When Thérèse was a girl, no woman in Canada was allowed to vote, and she knew that wasn't fair. As she grew up, she began fighting for women's rights. Fifty years later, when she retired from the Canadian Senate, she was still a tireless advocate for equality. Every day of her long career, Thérèse worked for fairness and human rights. She led the charge for women's voting rights in Quebec, became the first woman to lead a political party in Canada, and was an international peace activist.
Because when Thérèse made up her mind to change something, she took action!
The award-winning Scholastic Canada Biography series highlights the lives of remarkable Canadians whose achievements have inspired and changed the lives of those who followed.
Written by award-winning author Elizabeth MacLeod, this portrait of Thérèse Casgrain couples simple yet compelling writing with comic-flavoured illustrations by Mike Deas that help bring this fascinating story to life!
Raves & reviews:
Praise for the Scholastic Canada Biography series:
Winner, OLA Silver Birch Express Award, 2019 (Meet Viola Desmond)
Short-listed, OLA Silver Birch Express Award, 2019 (Meet Tom Longboat)
Short-listed, Hackmatack Children's Choice Award (Atlantic Canada), 2020 (Meet Elsie MacGill)
Short-listed, Rocky Mountain Book Award (Alberta Children's Choice), 2021 (Meet Elsie MacGill)
" . . . Meet Chris Hadfield delves a little deeper and gives children the anecdotes that will be most relevant to them. It's about dreaming and working hard and having fun while engaging with others about your passion." (Meet Chris Hadfield) –Canlit for Little Canadians
"Elizabeth MacLeod has written an outstanding book. The language is flowing and exciting, and there are speech and thought bubbles that add humour and break up the text making the information easier to absorb . . . The illustrations by Mike Deas are as strong and beautiful as the story. "5/5 stars (Meet Elsie MacGill) – CM: Canadian Review of Materials
Extras: