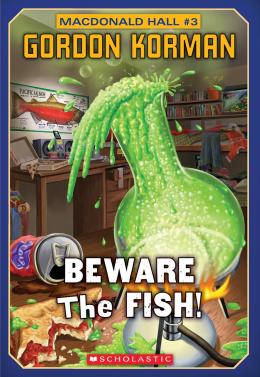 Macdonald Hall #3: Beware the Fish!
Scholastic Canada Ltd | ISBN 9781443124942 Paperback
184 Pages | 5.19" x 7.63" | Ages 9 to 12
Scholastic Canada Ltd | ISBN 9781443128032 Ebook
184 Pages | Ages 9 to 12
Gordon Korman's classic, bestselling series celebrates its 35th anniversary!
Macdonald Hall's ivy-covered buildings have housed and educated many fine young Canadians. But Bruno Walton and Boots O'Neal are far from being fine young Canadians. The roommates and best friends are nothing but trouble! Together they've snuck out after lights-out, swapped flags, kidnapped mascots . . . and that's only the beginning.
Macdonald High is having some serious cash flow problems. Everything is being cut back — evening snack is gone, the lab equipment is decrepit and the dorms are freezing at night. Worst of all, Bruno Walton and Boots O'Neal are being moved in with Elmer Drimsdale — the science geek. There's even talk of Macdonald Hall being put up for sale! Could this be the end of Canada's finest boarding school or do Bruno and Boots have a plan?
Join two of Gordon Korman's most memorable characters in seven side-splitting, rip-roaring adventures! Macdonald Hall is the series that started it all, and thirty-five years later it remains a must-read for old fans and new, the young — and the young at heart.
Raves & reviews:
Praise for the Macdonald Hall series:
"Korman has a unique talent for creating genuinely funny, roll-on-the-floor, laugh-out-loud books. All of his many books are bestsellers, a testament to his popularity with kids." —Quill & Quire
"A hilarious series." —Booklist
"Korman's vibrant dialogue and breakneck action are the highlights of this merry romp . . . Laughs are as plentiful as [Bruno and Boots's] misadventures." —Publishers Weekly