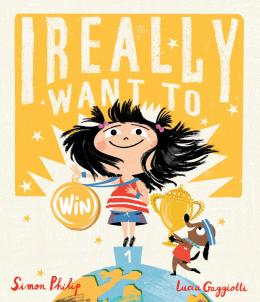 I Really Want to Win
Scholastic Inc. | ISBN 9781338680515 Hardcover
40 Pages | 9.274" x 10.739" | Ages 3 to 5
Perfect for fans of mischievous storytime favorites like Pig the Pug, The Bad Seed, and Eloise comes a winning story about a spunky heroine and her sidekick pup who are ready to WIN!
Today is Sports Day, I can't wait.
And as I know that I'll be great,
I've planned how I will celebrate...
Because I'm going to WIN.
Our heroine and her sidekick pup have their eyes on the prize and are ready to find something to WIN. They compete in a spelling bee, a dancing contest, hide-and-seek, and more in search of a shiny medal. But what will happen if they... don't walk away the winner? Playfully tackling themes of competition, good sportsmanship, and being a fair loser (and winner!), I Really Want to Win joyfully reminds readers that, sometimes, winning isn't everything. With rollicking rhyming text from Simon Philip, bold, expressive illustrations from Lucia Gaggiotti, and a spunky heroine in the middle of it all, this follow-up to I Really Want the Cake is sure to be a winner!
Raves & reviews:
Praise for I Really Want the to Win:
"A great conversation starter about the frustrations of competition and the search for a personal passion." — Kirkus Reviews
Praise for I Really Want the Cake:
"This diva of cake snatching commands every page, with her proclamations of entitlement (rendered in sprawling handwritten type), her extensive repertoire of operatic expressions, and a hairstyle that seems to have a life of its own-especially after she's laid waste to the kitchen. In more ways than one, she really does take the cake." — Publishers Weekly
"A child and a dog fight a losing battle to resist a tempting-but forbidden-chocolate cake. Each step in this hilarious struggle is narrated by the child in a three-line rhyme that culminates in an increasingly emotional refrain (in fun type to match) as the battle for self-control escalates... This humorous struggle for self-control also models apology and restitution." — Kirkus Reviews
"Cake lust wins out over parental command, as it all too often does. Faced with a huge, luscious, forbidden chocolate cake, a child struggles to stay away but ultimately caves as one lick becomes a feeding frenzy that leaves only crumbs. Well . . . how hard can it be to make another? Rhyming verse accompanies a winning young gourmand with wild black hair and a big personality, and Gaggiotti proves a dab hand at depicting fantastically smeary disaster areas around the cake plate and in the kitchen. Nonetheless, the extravagantly decorated jumble she dishes up at the end has a stylish flair that hints at a bright future as a pastry chef." — Booklist