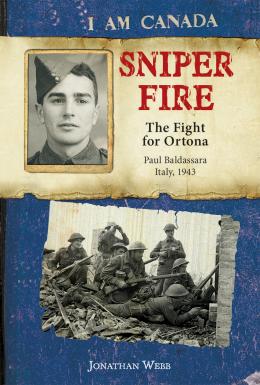 Read an excerpt
Awards
Commended, Best Books for Kids and Teens, Canadian Children's Book Centre, 2017
I Am Canada: Sniper Fire: The Fight for Ortona
Scholastic Canada Ltd | ISBN 9781443128612 Hardcover
240 Pages | 4.69" x 6.83" | Ages 9 to 12
Scholastic Canada Ltd | ISBN 9781443146814 Ebook
240 Pages | Ages 9 to 12
A young Canadian soldier's account of the battle of Ortona, Italy!
Seventeen-year-old Paul Baldassara lies about his age to enlist in the Canadian Army. He joins the Loyal Edmonton regiment, which is tasked with taking Italy's port town of Ortona. Little does he know the horrors of the battle that lie ahead . . .
Paul soon finds himself in the midst of the fierce fighting that earned Ortona the name "the Italian Stalingrad," because of the massive casualties and deaths. He and his fellow Canadian soldiers resort to tactics such as "mouse-holing" — blasting their way through the walls of houses which German snipers have made the streets and courtyards.
Will Paul prevail and help the Canadians save Ortona, no matter what the risk?
Raves & reviews:
Praise for the I Am Canada series:
". . . the chief characters are eminently likeable and quietly heroic, and their tales utterly engrossing." — The Globe and Mail
". . . makes history come alive through an expert mix of fact and fiction." — Quill & Quire, starred review.
". . . its lively writing style will maintain reader interest throughout." — CM: Canadian Review of Materials
Extras:
A Note from Jonathan Webb author of I Am Canada: Sniper Fire
My father fought in the Second World War — he was in the Navy. Most of my friends' parents also fought in the war. One friend's dad was in the Army. He fought in Italy and northern Europe. I remember one time my friend showed me some of his dad's souvenirs. They included a hand grenade that had been disarmed. We handled it with awe (and very carefully).
I studied history at university. I was fortunate to take a graduate course from a great Canadian military historian, Colonel C.P. Stacey. At the time, I was chiefly interested in international relations, but later I returned to Stacey's books and looked more deeply into Canada's war record. I wrote a book called Canada's Wars. And then I remembered my friend's father. His regiment played a central role in one of the fiercest battles fought by the Canadians in Italy: Ortona.
Because of our parents, my friends and I knew quite a lot about Canada's military history. This may be less true of people today. But I think it's important to remember and honour what Canadians have fought for and achieved. I tried, in Sniper Fire, to give an account of the battle that is both exciting in its made-up parts and true in its description of what really happened. It's a tricky balance. You will judge if I got it right.
See more I Am Canada books and extras!