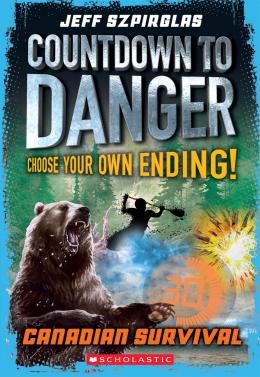 Read an excerpt
Watch a video
Awards
Short-listed, Hackmatack Children's Choice Award (Atlantic Canada), 2019
Commended, TD Summer Reading Club, Top Ten Recommended Reads, 2019
Canadian Survival (Countdown to Danger)
Scholastic Canada Ltd | ISBN 9781443163309 Paperback
144 Pages | 5.250" x 7.750" | Ages 8 to 12
Scholastic Canada Ltd | ISBN 9781443163316 Ebook
144 Pages | Ages 8 to 12
30 dangerous paths. 30 minutes to escape. YOU choose the path to survive!
Back with even more danger and daring, and a dash of fun, this fourth installment of the choose-your-own-path series features serious survival scenarios, Canadian style!
You begin your quest for survival stranded in the Rockies with an injured guide. You quickly find out she's not who she appears to be. Is she a friend or foe? And what's with that secret compound in the dam? The danger escalates . . . the dam is sabotaged . . . what should you do? Choose wrongly and be beaten by mutant beavers, roiled by raging rapids, squashed by a sasquatch, razed by a rockslide or worse! Choose well — help the mutant animals, trust your instincts with the bomb, grab that extra paddle — and make it out of the woods alive.