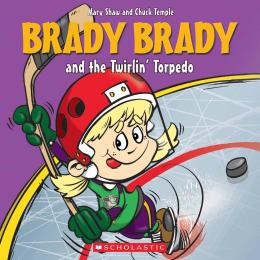 Read an excerpt
Available in French
Awards
Commended, Best Books for Kids and Teens, Canadian Children's Book Centre, 2021
Brady Brady and the Twirlin' Torpedo
Scholastic Canada Ltd | ISBN 9781443175371 Paperback
32 Pages | 8.003" x 8.013" | Ages 3 to 8
The Icehogs stand up against bullies on the ice in this latest Brady adventure!
Tes is one of the best players on the Icehogs, famous for her spinning, goal-scoring "twirlin' torpedo" move. But when Brady, Tes and the rest of the Icehogs face off against the annoying Hounds, Tes can't get around to do her go-to move.
The Hounds have singled her out because she's a girl and won't let up on the teasing. Brady comes up with an effective — and hilarious! — solution. The Hounds can't bother Tes if they don't know which player she is!
The Brady series is much-loved by teachers and coaches for its engaging character education themes. In Brady and the Twirlin' Torpedo Brady and his friends confront issues of bullying, teamwork and acceptance.
Raves & reviews:
Praise for Brady Brady "…the Brady Brady series shows young children being confronted by child-appropriate difficulties, such as teasing and pushy parents, and finding ways, sometimes with some adult help, to solve them. Chuck Temple's cartoon-style illustrations add a great deal to the books' pleasure, and his attention to details make the local ice rinks and their dressing rooms come alive. " — CM: Canadian Review of Materials
Extras: