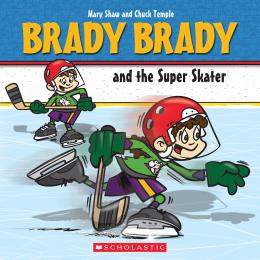 Read an excerpt
Awards
Commended, Best Books for Kids and Teens, Canadian Children's Book Centre, 2023
Brady Brady and the Super Skater
Scholastic Canada Ltd | ISBN 9781443175456 Paperback
32 Pages | 8.002" x 8.037" | Ages 3 to 8
The Icehogs have a new player — and she's a super skater!
Brady hasn't seen anyone skate faster than Caroline. But when it comes time to putting the puck in the net, she can't quite connect.
Brady soon realizes it's because she can't see properly, but like many kids, Caroline doesn't want to wear her glasses. A little understanding and friendship help Caroline see that they're not so bad after all, and the Icehogs' new super skater saves the day with an amazing play.
Join Brady Brady and his team in another great hockey story that also showcases the real meaning of community, teamwork and friendship.
Raves & reviews:
". . . the Brady Brady series shows young children being confronted by child-appropriate difficulties, such as teasing and pushy parents, and finding ways, sometimes with some adult help, to solve them. Chuck Temple's cartoon-style illustrations add a great deal to the books' pleasure, and his attention to details make the local ice rinks and their dressing rooms come alive."
— CM: Canadian Review of Materials
Extras: