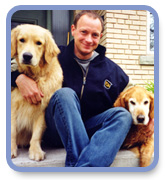 Paul Romanuk
Paul Romanuk grew up in Oshawa, Ontario, where he had his first experience as a broadcaster. "As a kid, I used to call play-by-play during road hockey games and — with the sound turned down — on Saturday nights," recalls Paul. He never really thought he could make a living doing this. But one day while in university, the campus radio station where he was working needed someone to call play-by-play of a local hockey game. Paul said "I can do that." And he did, thus starting his career as a broadcaster.

Paul's big break into writing came from former Scholastic author Brian McFarlane. In the late 1980s, he was helping Brian research one of his many hockey books. Brian was approached to do a Hockey Superstars. "He was too busy, but suggested that I could do it . . . I'm still at it!" says Paul. That first book was published in 1986 and featured a young Wayne Gretzky on the cover. This year marks the 30th anniversary of the annual and features a new young hockey superstar, Connor McDavid.

He enjoys it when adults tell him that they used to order the Hockey Superstars book every year from the school book club — and how some of them still buy it for their younger brothers, sisters, cousins or even their own children!

Paul began his professional career at TSN, and over the years he has covered many sports, including basketball, baseball, the FIFA World Cup and several Olympic Games. He has worked as a reporter or play-by-play announcer on more than a thousand hockey games in North America and Europe, including the Stanley Cup Final, Canada Cup, World Championship and World Junior Championship.

Paul spent a decade living in England but is now back in Toronto, where he works as a play-by-play announcer on Sportsnet's coverage of the NHL.