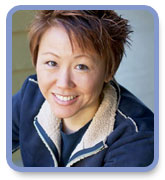 Lisa Yee
Current Home:
South Pasadena, California,
United States Of America

Lisa Yee has been an inventor, a hand model, and the creative director of Magic Pencil Studios, a strategic creative company. She's led brainstorming sessions for everyone from farmers to bankers, and Lisa's even been part of the Official Olympic Committee Torch Run Caravan (until the police requested that she leave). She has also been paid to eat chocolate.

But what Lisa likes doing most is writing. Her writing assignments have included labels for cans of refried beans and a speech for the President of the United States. Plus, she's penned her own newspaper entertainment column, written TV and radio commercials, menus that have been read by millions, jingles for waffles, and television specials for Disney.

With the publication of Millicent Min: Girl Genius, Lisa realized her lifelong dream of becoming an author. It was the winner of the prestigious Sid Fleishman Humor Award. Next, she published Stanford Wong Flunks Big-Time, which takes place during the same summer as Millicent Min, but from Stanford's point of view. It won the Chinese American Librarian Association Best Book of the Year Award and was named an ALA Notable Book. So Totally Emily Embers rounds out the trilogy.

Absolutely Maybe, was her first young adult title. "The book began with the title Charm School Dropout," says Lisa. "I was curious about what it would be like to be the goth-ish tomboy daughter of a diva-esque ex-beauty queen. But as I started writing, the story evolved and became more complex and deeper in scope than I had first anticipated. It also changed from a lighter, middle-grade novel to a darker, though still humorous, YA novel."

Her latest book is Bobby vs. Girls (Accidentally).

Lisa Yee lives in South Pasadena, California with her husband, Scott, and their two children, Benny and Kait.