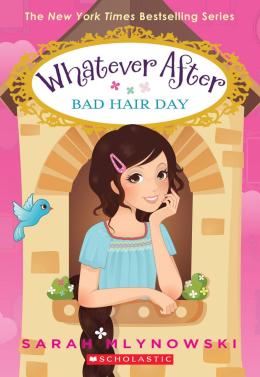 Read an excerpt
Whatever After #5: Bad Hair Day
Scholastic Inc | ISBN 9780545627290 Paperback
176 Pages | 5.26" x 7.55" | Ages 8 to 12
Scholastic Inc | ISBN 9780545627283 Hardcover
176 Pages | 5.74" x 7.85" | Ages 8 to 12
Scholastic Inc | ISBN 9780545627320 Ebook
176 Pages | Ages 8 to 12
The magical fifth installment of Sarah Mlynowski's hit series Whatever After!
Abby and Jonah are stuck in yet another fairy tale! This time, the magic mirror sucks them into the story of Rapunzel. When Rapunzel lets down her hair for the siblings to climb, Jonah accidentally shreds it with his soccer cleats.
But that's nothing a stylish, TOTALLY professional haircut by Abby can't solve, right? Wrong! Now this tale is all tangled up. Can Abby and Jonah turn this bad hair day around before it's too late?
Raves & reviews:
Praise for Whatever After #1: Fairest of All:
"Sarah Mlynowski's spunky heroine injects some girl-power into Snow White for a wonderful reading adventure the whole family will enjoy. Tons of fractured fairy tale fun!" -Meg Cabot, author of Allie Finkle's Rules for Girls and The Princess Diaries
"An uproariously funny read. The swift pace of the tale and non-stop action . . . will enchant readers from the first page." -Kirkus Reviews
"This delightful kick-off to the series demonstrates Mlynowski's prowess at writing for middle-graders." -Publishers Weekly
"[Abby is] witty and charming, and Jonah's one-liners are snappy and clever. A light, fun adventure." -School Library Journal
Extras: