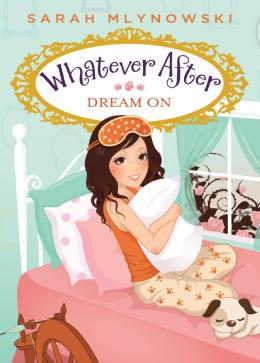 Read an excerpt
Whatever After #4: Dream On
Scholastic Inc | ISBN 9780545415729 Paperback
176 Pages | 5.28" x 7.58" | Ages 8 to 12
Scholastic Inc | ISBN 9780545415712 Hardcover
176 Pages | 5.72" x 7.8" | Ages 8 to 12
Scholastic Inc | ISBN 9780545633659 Ebook
176 Pages | Ages 8 to 12
Good night, sleep tight, don't let the magic mirror bite . . .
My friend Robin and I were going to have the best sleepover ever. We'd stay up late, eat s'mores, share secrets - and NOT knock on my magic mirror. I was NOT getting pulled into another fairy tale.
But the mirror STILL ends up pulling me and my brother, Jonah, into Sleeping Beauty's story -and this time, Robin comes with us, too! When Robin pricks her finger on the spindle, I know we're in trouble. Now she's fast asleep, Sleeping Beauty is wide awake, and I have to:
Host a fake birthday party for Jonah
Find a prince to wake up Robin
Avoid getting cursed by scary fairies
We only have ten hours to make things right . . . or this day will become a nightmare!
Raves & reviews:
Praise for Whatever After #1: Fairest of All:
"An uproariously funny read. The swift pace of the tale and non-stop action . . . will enchant readers from the first page." -Kirkus Reviews
"This delightful kick-off to the series demonstrates Mlynowski's prowess at writing for middle-graders." -Publishers Weekly
"Sarah Mlynowski's spunky heroine injects some girl-power into Snow White for a wonderful reading adventure the whole family will enjoy. Tons of fractured fairy tale fun!" -Meg Cabot, author of Allie Finkle's Rules for Girls and The Princess Diaries
Extras: