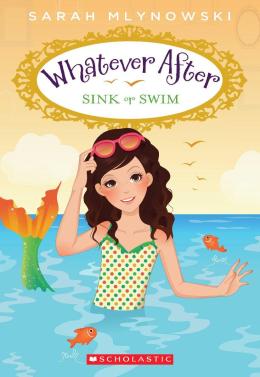 Read an excerpt
Whatever After #3: Sink or Swim
Scholastic Inc | ISBN 9780545415705 Paperback
176 Pages | 5.27" x 7.55" | Ages 8 to 12
Scholastic Inc | ISBN 9780545415699 Hardcover
176 Pages | 5.74" x 7.82" | Ages 8 to 12
Scholastic Inc | ISBN 9780545540278 Ebook
176 Pages | Ages 8 to 12
Splash! This time, Abby's magic mirror sucks her into the tale of the Little Mermaid.
We weren't planning to mess up the fairy tales. The first two times we did it by accident. But when our magic mirror pulls us into the story of the Little Mermaid, we have no choice but to try to rewrite it. Let's just say the original story does NOT end happily!
Now we need to:
Convince our mermaid to keep her tail
Plan a royal wedding
Avoid getting eaten by sharks
We've got to find a happy ending for the Little Mermaid . . . before she's fish food and we're lost at sea forever!
Raves & reviews:
Praise for Whatever After #1: Fairest of All:
"An uproariously funny read. The swift pace of the tale and non-stop action . . . will enchant readers from the first page." -Kirkus Reviews
"This delightful kick-off to the series demonstrates Mlynowski's prowess at writing for middle-graders." -Publishers Weekly
"Sarah Mlynowski's spunky heroine injects some girl-power into Snow White for a wonderful reading adventure the whole family will enjoy. Tons of fractured fairy tale fun!" -Meg Cabot, author of Allie Finkle's Rules for Girls and The Princess Diaries
"Abby's voice, her relationship with Jonah, and the overall tone of the story fit neatly into the "Whatever After" series and leave readers curious as to how the next fairy tale will be changed." -CM: Canadian Review of Materials
Extras: