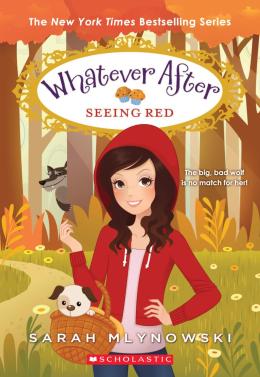 Read an excerpt
Seeing Red (Whatever After #12)
Scholastic Inc. | ISBN 9781338162943 Paperback
176 Pages | 5.271" x 7.598" | Ages 8 to 12
Scholastic Inc | ISBN 9781338162929 Hardcover
176 Pages | 5.75" x 7.8" | Ages 8 to 12
Scholastic Inc. | ISBN 9781338162936 Ebook
176 Pages | Ages 8 to 12
Abby and Jonah fall through their magic mirror into the story of "Little Red Riding Hood"!
Over the river and through the woods, to grandmother's house we go! Abby and Jonah are off to visit their Nana, who knows ALL about fairy tales. But things go wrong when the siblings wind up in the classic fairy tale of Little Red Riding Hood.
Will they escape the big, bad wolf in time?
Hijinks, hilarity, and lots of girl power are guaranteed!
Raves & reviews:
Praise for Whatever After:

"An uproariously funny read. The swift pace of the tale and non-stop action . . . will enchant readers from the first page." -- Kirkus Reviews

"Hilarious . . . with unexpected plot twists and plenty of girl power." -- Booklist

"Giddy, fizzy, hilarious fun!" -- Lauren Myracle, author of Luv Ya Bunches

"Tons of fractured fairy tale fun!" -- Meg Cabot, author of Allie Finkle's Rules for Girls and The Princess Diaries

"The feminist in me adored it, and the mother in me loved how my daughter would long to cuddle in close as we read together." -- Danielle Herzog, blogging for The Washington Post
Extras: