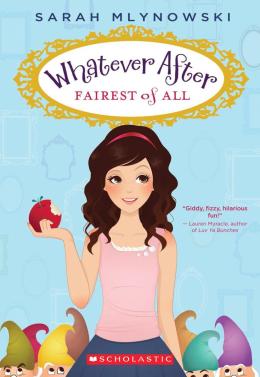 Read an excerpt
Whatever After #1: Fairest of All
Scholastic Inc | ISBN 9780545485715 Paperback
176 Pages | 5.25" x 7.58" | Ages 8 to 12
Scholastic Inc | ISBN 9780545403306 Hardcover
176 Pages | 6" x 8" | Ages 8 to 12
Scholastic Inc | ISBN 9780545498425 Ebook
176 Pages | Ages 8 to 12
Sarah Mlynowski's charming new series puts a fresh, modern spin on classic fairy tales!
Mirror, mirror, on the basement wall...
Once upon a time my brother and I were normal kids. The next minute? The mirror in our basement slurped us up and magically transported us inside Snow White's fairy tale.
I know it sounds crazy, but it's true.
But hey - we're heroes! We stopped Snow White from eating the poisoned apple. Hooray! Or not. If Snow White doesn't die, she won't get to meet her prince. And then she won't get her happy ending. Oops.
Now it's up to us to:
1. Avoid getting poisoned
2. Sneak into a castle
3. Fix Snow White's story
And then, fingers crossed, find our way home.
Raves & reviews:
Praise for Whatever After:
"An uproariously funny read. The swift pace of the tale and non-stop action... will enchant readers from the first page." -Kirkus Reviews
"This delightful kick-off to the series demonstrates Mlynowski's prowess at writing for middle-graders." -Publishers Weekly
Extras: