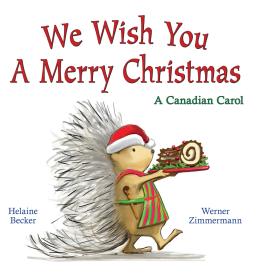 Read an excerpt
Available in French
Awards
Commended, Best Books for Kids and Teens, Canadian Children's Book Centre, 2022
We Wish You a Merry Christmas: A Canadian Carol: A Canadian Carol
Scholastic Canada Ltd | ISBN 9781443175883 Hardcover
32 Pages | 10.246" x 10.321" | Ages 3 to 8
Good tidings to you, and all of your kin. We wish you a Merry Christmas and a Happy New Year!
Sing your way through the season with Porcupine, Beaver, Moose and the gang!
It's almost party time at the Porcupine Café — and the kitchen is chaos as guests request their favourite foods. The bears want their figgy pudding, but the puffins ask for fish and the caribou demand berries. What's a poor chef to do?
This fun holiday romp will have kids and adults singing along!
Helaine Becker and Werner Zimmermann create even more Christmas merriment and mayhem in this companion to the bestselling A Porcupine in a Pine Tree, Dashing Through the Snow and Deck the Halls.
Raves & reviews:
Praise for A Porcupine in a Pine Tree:
"The clearly Canadian lyrics are perfectly complemented by the fun and dynamic illustrations." — CBC Parents
Praise for Dashing Through the Snow:
"Parents and teachers will readily sing Becker's rhymes, and the chorus . . . encourages full listener participation." — National Reading Campaign
"Every bit as fun as its predecessor. This book has the potential of engaging the entire family since no one who reads it will be able to refrain from singing out loud." — Montreal Gazette