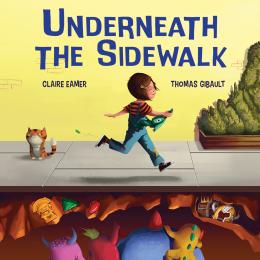 Read an excerpt
Available in French
Awards
Winner, Shining Willow Award (Saskatchewan Young Readers' Choice), 2018
Short-listed, Chocolate Lily Book Award (BC Children's Choice), 2019
Underneath the Sidewalk
Scholastic Canada Ltd | ISBN 9781443146364 Hardcover
32 Pages | 10.25" x 10.28" | Ages 3 to 8
What lurks beneath the sidewalk cracks . . . ?
Run, jump, spin round,
Skipping to the playground.
Skip, hop, jump, stop!
Crack in the sidewalk.
"Oh, no!"
A girl takes care to step over the sidewalk cracks, but in a moment of distraction she falls through...
In rhythmic verse that begs to be read aloud, Underneath the Sidewalk combines humour, joy and just the right dose of spine-tingling fear as it explores the age-old childhood question of what would happen if you fell through the cracks in the sidewalk!
Children will delight in the breathtaking art that opens up worlds of imagination in this magical story of bravery, adventure and friendship.