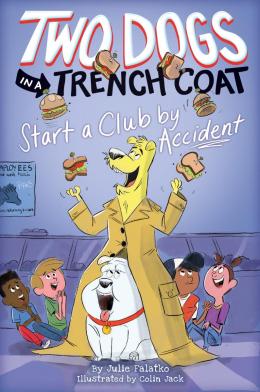 Read an excerpt
Awards
Commended, Best Books for Kids and Teens, Canadian Children's Book Centre, 2019
Two Dogs in a Trench Coat Start a Club by Accident
Scholastic Inc | ISBN 9781338189537 Hardcover
208 Pages | 5.7" x 8.55" | Ages 8 to 12

Scholastic Inc | ISBN 9781338189544 Ebook
208 Pages | Ages 8 to 12

Sassy and Waldo love school! Everything smells like meat and dirty socks! And they love being able to help Stewart.

When Stewart has to stay late after school for a Junior Office Supply Enthusiasts meeting, Sassy and Waldo are left alone to raid the cafeteria's refrigerator. As Sassy and Waldo's after school antics escalate, hilarity ensues as the two dogs start a club...by accident.