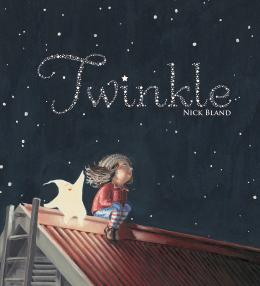 Read an excerpt
Available in French
Awards
Commended, Resource Links, Best of the Year, 2017
Twinkle
Scholastic Canada Ltd | ISBN 9781443100984 Hardcover
32 Pages | Ages 3 to 8
Penny Pasketti is determined to help her new friend, Little Star, make it back home to the sky.
Penny Pasketti stared into space and pretended the stars were her friends.
She imagined that every twinkle was a smile or a secret or some such wonderful thing.
Suddenly, a shooting star lands in her garden, and in a twinkle the night is filled with friendship and fun. Eventually it is time for Little Star to go home — and for Penny to go to bed — but how do you make a star fall up? One resourceful little girl comes up with a plan . . . and we find she's not the only one with a little smile and a wonderful great big secret.
Nick Bland's luminous artwork brings this charming story to life. With an ending that all is right in the world, it's a perfect bedtime story to get little ones and stars alike tucked in for the night.