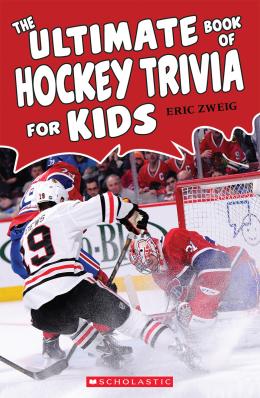 Read an excerpt
Awards
Commended, Best Books for Kids and Teens, Canadian Children's Book Centre, 2016
The Ultimate Book of Hockey Trivia for Kids
Scholastic Canada Ltd | ISBN 9781443146098 Paperback
384 Pages | 5.91" x 9" | Ages 8 to 12
Three volumes of Hockey Trivia for Kids are now in one rock em, sock em bind-up! Become a hockey trivia superstar with The Ultimate Book of Hockey Trivia for Kids.
Did you know that the Sutter family out of Alberta boasts SIX hockey stars? Or that Hockey Night in Canadas three stars of the game was a tradition started by an oil company?
Go beyond player stats and team records and find out about the cool details only die-hard hockey fans know. Its Crazy Canadian Trivia meets Hockey Superstars with a full third of the book devoted to our beloved Stanley Cup, and lots of photos and illustrations throughout.
Raves & reviews:
Praise for Hockey Trivia for Kids:
Hockey historian Eric Zweig has come up with the perfect blend of factoids everybody should know . . . Quill & Quire
The facts and trivia fairly jump off the page, making it possible to open up to any page and learn something.The Evening News