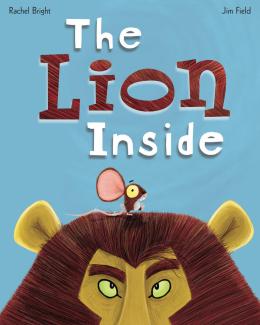 The Lion Inside
Scholastic Inc | ISBN 9780545873505 Hardcover
32 Pages | 9.8" x 12.08" | Ages 3 to 5
An inspiring story that shows we all have a lion inside of us!
That day they BOTH learned
That, no matter your size,
We all have a mouse
AND a lion inside.
A mouse feels small and insecure and determines that what he needs to do is learn how to roar like a lion. He knows he has to act brave when he approaches a lion to learn how. In a hilarious turn of events, the lion is afraid of mice! The mouse comforts the lion, they become friends, and we learn that there's a lion and a mouse inside all of us.
The inspiring text by Rachel Bright and the fun, bold illustrations by Jim Field teach young readers an important lesson. Regardless of how big or mighty we are, we can all live our dreams and do what we want to do. Fans of Aesop's "The Lion and the Mouse" will enjoy The Lion Inside!
Raves & reviews:
Praise for Love Monster by Rachel Bright
"A winning picture book by Rachel Bright . . . With the Monster, as with many a lonely soul, love arrives when he least expects it in this ultimately happy excursion for 2 to 5 year olds." —The Wall Street Journal
Praise for Side by Side by Rachel Bright and illustrated by Debi Gliori
"This sweet story about finding a friend brings together all of the adorable elements of woodland creatures with all the woes of finding the perfect companion . . . With pleasant rhyme and delightful illustrations, this title will attract young readers." —School Library Journal